AC Condensers for City Trucks – Chevy, GMC, Suburban, and Sierra from 2014-2020, V8 – $649 for parts, install, charge and tax
– Extra for R1234yf. Contact us today for more information!
Mechanic Services in New Palestine, IN
Since 1982, Auto Air & Heating, Inc. has been a one-stop shop for a wide range of auto repair and maintenance services in New Palestine, Hancock County, Indianapolis, and Sugar Creek Township, IN. We specialize in auto heating and air, as well as fleet vehicle maintenance, diagnostic testing, transmission services, electrical work, front-end repair, brakes, tires, suspensions, and more! Our shop welcomes both foreign and domestic vehicles. Contact us today for more information about our capabilities.
Mechanics You Can Count On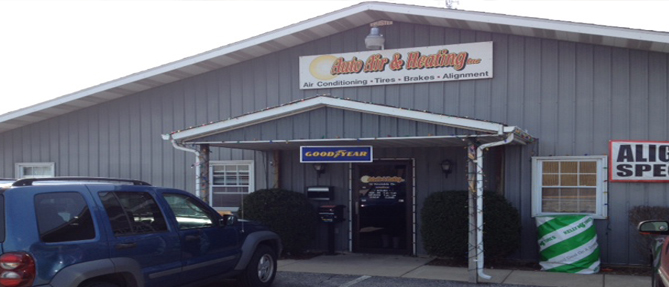 There are numerous mechanics in New Palestine, IN you can visit if your vehicle is acting up—but how do you know that you're getting the best service at a competitive rate? It can be hard to tell. That's why Auto Air & Heating, Inc. makes it easy for our customers to know they're getting best-in-class services from us. We go above and beyond in all that we do, whether you're in for scheduled maintenance or need comprehensive repairs performed. We take pride in giving our customers the complete peace of mind that comes with making the decision to trust us for mechanic services in New Palestine, IN.
At Auto Air & Heating, Inc., our shop is equipped to tackle a full range of automotive needs. You won't find mechanics in New Palestine, IN with the kinds of capabilities we have! From front end work to tires and brakes, transmission services to engine work and auto AC, we do it all. And, we employ only qualified experts, so you can be sure you're getting a top-tier level of quality workmanship. We even welcome fleet vehicles! Come and experience our first-class level of service for yourself the next time you have scheduled service or need auto repairs. We're ready to prove to you why we're the go-to, one-stop-shop for superior auto care and maintenance.
We've been a locally-owned and –operated business since 1982.
Our mechanics have the capabilities to work on both foreign and domestic vehicle models.
We're a licensed expert in Freon, giving us complete auto HVAC capabilities.
Our business is staffed by only ASE-certified repair technicians.
We specialize in fleet vehicle maintenance and repairs and are ready to partner with your business.
Need a Mechanic Services Quote?
If you're looking for a quote on mechanic services, contact us today. We'll be happy to discuss your needs with you and help you schedule an appointment for service.
Our mechanics service drivers in the following areas:
Beech Grove, IN
Carmel, IN
Fishers, IN
Franklin, IN
Greenfield, IN
Greenwood, IN
Indianapolis, IN
Lawrence, IN
Mooresville, IN
Noblesville, IN
Plainfield, IN
Shelbyville, IN
Speedway, IN
Westfield, IN
Zionsville, IN