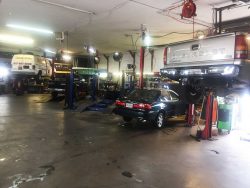 There's nothing more important that keeping up on routine, factory-scheduled vehicle maintenance. At Auto Air & Heating, Inc, one of our core service focuses is on providing our customers with any and all auto maintenance in New Palestine, Hancock County, Indianapolis, and Sugar Creek Township, IN they need throughout the life of their vehicles. Some of the routine services we offer include:
Oil Changes: The most important form of general maintenance in New Palestine, IN, keeping up on oil changes cannot be understated. We'll check and replace your oil every 3-5k miles and can help you choose the ideal oil for your engine and driving habits. Plus, we're thorough in every oil change, checking filters and lubing parts where needed.
Tires: We'll check your tire pressure, alignment and camber. We can also rotate tires and provide you with both new tires and tread repairs. Our goal is for you to roll out of our shop on four tires you can rely on.
Fluids: From transmission fluid to brake fluid, power steering to coolant and beyond, we're the place to come for new fluids and top-offs.
Lights and Wipers: Light bulbs burn out and wiper blades become damaged over time. We'll replace both to give you confidence out on the road, no matter the conditions.
Belts and Hoses: Belts and hoses can break down or wear out over time. Let us provide you with replacements as-needed, to help you avoid costly breakdowns.
In addition to all of the above routine services, we can also perform diagnostics and testing for things like exhaust and timing, to adjust and repair these things as needed. Our team is dedicated to preventing auto problems before they arise!
Fleet Maintenance
We're pleased to partner with companies who rely on fleet vehicles, to provide you with the routine maintenance services you need to keep your fleet in tip-top shape. We offer a full battery of testing, general maintenance and minor repairs, designed to mitigate the cost of fleet ownership and management.
For more information about our routine auto maintenance services or to inquire about scheduled service that your vehicle might be due for, along with other issues like electrical and front-end work, please contact us today by calling 317-861-4898.