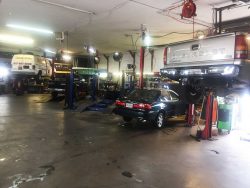 How long has it been since you've replaced your tires? If you can't remember the last time you put new treads on your car, it might be time to visit a tire shop in New Palestine, Hancock County, Indianapolis, and Sugar Creek Township, IN! No matter what type of tires you need, Auto Air & Heating, Inc is here to provide you with a huge selection of name brands to choose from, including:
Bridgestone
Continental
Cooper Tires
Dayton
Dunlop Tires
Firestone
Fuzion
General Tire
Goodyear
Mastercraft
Michelin
Not sure if you need new tires? Our experts can help you determine what kind of shape your existing tires are in and how much more tread they've got on them. If you do need new tires, we'll work with you to figure out what the best option is for you depending on your driving style, frequency and more.
Signs You Need New Tires
There are a few key indicators that will let you know if you should seek new tires in New Palestine, IN:
Handling your vehicle in rain or snow becomes harder, and you experience slipping more easily during turns.
The treads on your tires have worn down to below 5/32" in thickness, making it harder to handle your vehicle.
If you're constantly putting air in your tire or seeing the tire light come on your dashboard.
If you've patched your tires several times and are having problems with inconsistent tread wear.
Paying close attention to these factors can help you avoid flats and blowouts. Plus, they'll keep you more informed about your driving habits.
For safe and reliable handling on the road and the peace of mind that comes with new treads, contact us at Auto Air & Heating, Inc. for new tires, general auto repair, and auto AC repair in New Palestine, IN. We'll take the time to help you make an investment in tires that's perfect for your vehicle and your bank account.