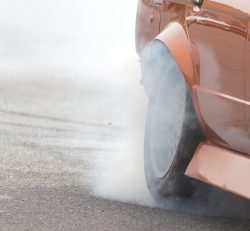 The most important safety feature on your vehicle is its brakes. When you press down on that pedal, you expect your vehicle to stop! Auto Air & Heating, Inc is here to make sure that every single component responsible for the function of your brakes is in top working order. Our team will make sure you stop on a dime, to protect you and your vehicle from harm. Some of the brake work in New Palestine, Hancock County, Indianapolis, and Sugar Creek Township, IN we offer includes:
Pads and Shoes: When your brakes in New Palestine, IN wear down to the point of replacement, they'll begin to squeak. This is your sign to visit us for new pads and shoes. We outfit your brakes with reliable replacement pads and shoes to restore your stopping power and peace of mind on the road.
Rotors: Over the life of your vehicle, your rotors may develop cracks or grooves as the result of general braking. We can resurface them to remove these imperfections, improving rotor performance and eliminating any noises or wobbling that may be present.
Calipers: Calipers are essential for proper and reliable braking, but can become warped or damaged if brakes are ridden too low before being replaced. We can swap out damaged calipers for new ones, restoring the integrity of your braking mechanism to its fullest.
Brake Flushes: Air in your brake lines can cause problems when it comes to pushing hydraulic fluid from the master cylinder to your brakes. We'll bleed the air and replace your brake fluid to keep your brakes responsive and effective. For older vehicles, we can also flush the lines of old fluid that may have become contaminated or lost viscosity.
ABS Work: Antilock braking systems (ABS) are a modern marvel of safety engineering and can prevent your brakes from locking up during critical stops. If your ABS is activating for no reason or sticking when activated, come to us for a resolution.
At Auto Air & Heating, Inc., we're in the business of delivering peace of mind to our customers—starting with your brakes. If you need brake work, replacements or repairs for this critical safety feature, stop by today or contact us at 317-861-4898 to schedule an appointment for brake work, tires, suspension repair, and more.