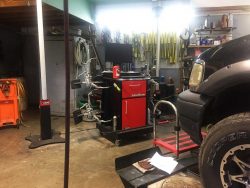 Is your ride a little rough? Can you hear rattling, clanking or thumping from your undercarriage? It's signs like these that point towards the need for suspension repair in New Palestine, IN. And whether you need shocks, struts or work done on your control arms, Auto Air & Heating, Inc is ready to help. Our suspension repair capabilities ensure your vehicle is getting everything it needs to ride smoothly once again.
Our undercarriage capabilities extend to all major and minor components that are tasked with keep your vehicle's wheels on the road. Our suspension shop serving New Palestine, Hancock County, Indianapolis, and Sugar Creek Township, IN is ready to provide you with the following services:
Alignment: Improper alignment could leave your vehicle pulling right or left, which puts stress and strain on components of the suspension. It can also cause premature tire wear. We correct alignment back to neutral, putting your car back on track for a smooth ride.
Chassis Work: If parts of your chassis have been damaged in an accident or succumbed to rust and wear over the years, allow us to repair them. We'll make sure your chassis is in great shape, so it can properly support the rest of your suspension components.
Shocks and Struts: Shocks and struts play a pivotal role in reducing the amount of vibration your vehicle endures. We can replace worn-out shocks and struts, protecting your vehicle from vibration damage while also smoothing out your ride.
Stabilization: Control arms, stabilizer links and sway bars are all vital pieces of your suspension that work to create stability for your overall vehicle. We replace and re-orient these parts to balance and stabilize your vehicle.
Don't ignore suspension problems—they're only bound to get worse with time. If you hear noises from your undercarriage or feel the effects of suspension damage in the way your vehicle handles, make an appointment and contact us at Auto Air & Heating, Inc. today by calling 317-861-4898. We're available for all of your general auto repair and auto heating and AC repair needs!