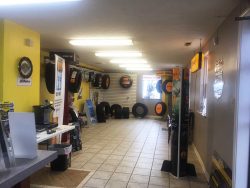 Your steering system is a sophisticated collaboration of parts and components working together to get you from Point A to B. If any one of these parts isn't working properly, you could be in for a long and bumpy ride. Auto Air & Heating, Inc is here to provide you with any and all front-end work in New Palestine, Hancock County, Indianapolis, and Sugar Creek Township, IN you might need to keep your vehicle's steering in line.
Do you need front-end repair?
Not many drivers realize the need for front-end repair in New Palestine, IN until it's too late and major malfunction has occurred. They ignore the warning signs and hope they'll go away… but front-end alignment issues rarely resolve themselves. Take a look at some of the common symptoms of a front end issue:
Difficulty turning the wheel or handling your vehicle.
Pulling to one side or listing off-center when you take your hands off the wheel.
Tread wear on your tires that might indicate scraping or friction.
Squeaking or squealing as you turn the wheel or during turns.
Taking the time to realize these minor problems could end up saving you a large amount of money on peripheral repairs. All it takes is a simple visit to a front-end specialist.
Front-End Work
At Auto Air & Heating, Inc., our approach to front-end work is encompassing. We make sure that any parts or components being stressed are given the repairs and service they need to function appropriately again. Some of the parts we focus on include:
Struts
Shocks
Control arms
Ball Joints
Coil springs
Sway bars
Leaf springs
Wheel bearings
We can adjust your steering wheel, properly align your suspension, repair center links and replace bushings, among other repairs. Our goal is to reinstate your vehicle's natural alignment and steering abilities, to prevent excess wear on other critical parts.
For more information about front-end repair and how Auto Air & Heating, Inc. can return the smoothness and handling to your day-to-day driving, contact us today by calling 317-861-4898. We're also available for service on your brakes and tires.