March 15, 2023 6:36 pm
Leave your thoughts
What Is An OBD Scanner?
An OBD Scanner is a device that connects to the OBD port on your car and reads error codes stored there. These error codes are a result of problems with the vehicle's electronic systems, like the engine. They are used by mechanics to diagnose trouble and to find out what is wrong with your car. They can be simple code readers or more advanced scan tools that can access a much larger set of systems in your car and perform sophisticated diagnostics.
Why Use An OBD Scanner?
In the modern world, it's essential to understand how your car's computer works in order to maintain and repair it. Unless you're a professional mechanic, it can be difficult to know what is going on inside your car's system. If you're a do-it-yourselfer, an OBD scanner can save you time and money by helping you identify issues with your car before you have to go to the shop for repairs. But how do you know which scanner to buy? The answer depends on your needs. Some OBD readers can only give you engine-related information, while others allow you to read data from other systems like airbags and transmissions. Also, make sure that the scanner you choose is compatible with your car brand and model.
How Do OBD Scanners Work?
Most OBD scanners work by connecting to the car's diagnostic connector – a trapezoid-shaped female connector that's noted in your owner's manual. They read and clear fault codes, reset the check engine light and provide information about how to fix problems. They also come with a user manual that explains how to use the device and what you can do to keep your car running smoothly. It's best to read the manual before you start using your scan tool so you know exactly what to do when it gives you a code. OBD2 scanners are standardized, so they will work on almost any car built after 1996. But some brands will not allow certain features or commands to be used on their cars. This is usually a function of how the manufacturer's control architecture or operating software was developed.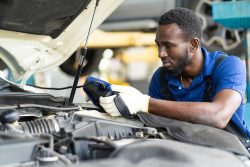 What Are The Different Types Of OBD Scanners?
Scanners range from inexpensive code readers to more upscale models that can read more codes, make adjustments to vehicle systems and do dry runs of smog tests. For example, some enhanced scanners can reset finite parameters, like transmission shift points, to make it easier to work with certain vehicle components. Some also allow bidirectional actuator tests, which can turn on headlights or blow the car horn, and reprogramming, or J2534 reflashing, which allows techs to change vehicle settings and send commands to different components. In the last few years, as prices have dropped for more functions and programming capabilities, shops have increasingly gravitated toward scanners that offer these features. Siegel of Launch explains that "entry-level products have gone down by the wayside, and people are spending more on scan tools with additional functionality."
Which OBD Scanner Is Right For Me?
There are many things to consider when choosing an OBD scanner, such as how often you plan to use it and what type of work you will be performing. Ideally, you want one that is compatible with all OBD-II-equipped vehicles and includes a lifetime warranty or software updates so it stays current with changing automotive technology. The best OBD2 scanners are those that can access live data and graphs to help you understand what's happening with your car. They also allow you to monitor important vehicle parameters, like engine temperature and RPMs. Bluetooth connectivity is also a good feature to look for when you're looking for an OBD2 scanner. This allows you to collect data using your smartphone and review it in a convenient app on the device. Ancel's BD310 is a handy plug-in scanner that works with a phone or tablet via Bluetooth. It can read and clear check engine codes and also augments a vehicle's dashboard with supplemental information, such as fuel injection rate and battery level.
Categorised in: Auto Repair Service, General Maintenance, Mechanic, OBD Scanners
This post was written by admin