November 16, 2023 8:26 pm
Leave your thoughts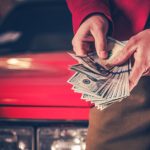 Selling your car can be a daunting task, but with the right approach, you can not only streamline the process but also fetch top dollar for your vehicle. In this guide, we'll walk you through a series of steps and strategies to help you sell your car quickly and get the best possible price.
Prepare Your Car for Sale
Before listing your car for sale, it's essential to ensure it's in the best possible condition. Start by giving it a thorough cleaning, both inside and out. Address any minor cosmetic issues, like scratches or dents, and consider investing in professional detailing. A clean and well-maintained car not only attracts more buyers but also conveys a sense of care and value.
Gather Essential Documentation
Having all the necessary paperwork in order is crucial when selling your car. Collect documents such as the title, maintenance records, and the vehicle history report. A comprehensive set of records instills confidence in potential buyers, demonstrating that your car has been well taken care of and is free of any major issues.
Set the Right Asking Price
Determining the right asking price is a delicate balance. Aim too high, and you may turn away potential buyers; set it too low, and you could miss out on maximizing your profit. Research the market value of your car using online tools, taking into account factors such as the car's age, mileage, and overall condition. Be realistic and open to negotiation, but also be prepared to justify your asking price based on the car's features and maintenance history.
Create a Compelling Listing
When creating your online listing, be sure to highlight the key features and benefits of your car. Provide accurate and detailed information, including the make, model, year, mileage, and any additional features. High-quality photos are equally important – capture your car from various angles and showcase both the interior and exterior. A well-crafted listing grabs the attention of potential buyers and increases the likelihood of a quick sale.
Choose the Right Platform
Selecting the right platform to list your car is crucial for reaching a broad audience. Online platforms such as Craigslist, Autotrader, and Facebook Marketplace are popular choices. Each platform caters to a different audience, so consider your target market and choose accordingly. Additionally, be responsive to inquiries and provide additional information promptly to keep potential buyers engaged.
Be Honest and Transparent
Honesty is key when selling your car. Disclose any known issues or imperfections in your listing, and be upfront with potential buyers during the negotiation process. Building trust with the buyer not only expedites the sale but also reduces the likelihood of disputes later on. If your car has recently undergone significant repairs or maintenance, highlight these aspects as they can add value and peace of mind for the buyer.
Negotiate Effectively
Negotiation is an inevitable part of selling a car, and being prepared is essential. Set a minimum acceptable price for yourself and be ready to negotiate within a reasonable range. Consider the buyer's perspective, but don't be afraid to stand firm on the value of your car, especially if you have justified it with maintenance records and additional features.
Finalize the Sale Properly
Once you've reached an agreement with a buyer, finalize the sale in a secure and legal manner. Ensure that the payment method is reliable, such as a cashier's check or a secure online payment platform. Accompany the buyer to the DMV to transfer the title properly, and provide a bill of sale to document the transaction. This step is crucial for protecting both parties and finalizing the sale seamlessly.
Summary
Selling your car quickly for top dollar requires careful planning and execution. By preparing your car, gathering the necessary documentation, setting the right price, creating a compelling listing, choosing the right platform, being honest and transparent, negotiating effectively, and finalizing the sale properly, you can navigate the selling process with confidence and achieve the best possible outcome. With these strategies in mind, you'll be on your way to selling your car swiftly and maximizing its value.
Need Mechanic Services in New Palestine, IN?
Welcome to Auto Air & Heating, Inc. Since 1982, Auto Air & Heating, Inc has been your one-stop shop for any auto air and heating services you need in New Palestine, Indiana. At Auto Air & Heating, Inc., we offer preventive maintenance jobs that keep cars on the road and reliable. We have access to the latest equipment to perform any diagnostic test. We also offer transmission and engine repair for foreign and domestic vehicles. As a licensed expert in Freon, our friendly staff will guarantee the correct type and amount on your vehicle. So stop by today or call in today to set up an appointment!
Categorised in: Resale
This post was written by admin